News
12 November 2021
Sailing and the Orca
---
A brief overview of the recent encounters with Orcas whilst sailing.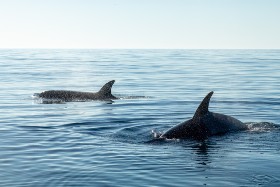 Widely reported in the yachting press as well as experience of several clients are encounters with orcas whilst sailing the Cadiz and Gibraltar area.  Although incidents have been reported along the length of the Portuguese and Spanish Atlantic coastlines, our experience has been limited to the southern part of this area the last being reported in August.
Reasons for these 'attacks' are not clear, the interest shown in yachts appears to be particularly focused on rudders and steering gear and could be down to nothing more than playful interaction or learning to fish for the tuna which are in abundance along this coastline this year.  Increased sailing traffic during the summer months could also play a part but one common thread is that interactions with these animals can certainly be traumatic for those onboard.
Earlier this year the Spanish Government imposed a restriction for smaller vessels along the Cape Trafalgar stretch of water and if you are proposing to sail these sea areas it would be wise to check restrictions prior to leaving.  It is likely that no one method is better than another, more probable is that the orcas become bored and disinterested and decide to move on after 30 minutes or so.  Generally accepted recommended courses of action are turning engine off, lowering sails, staying away from the sides of the boat and remaining quiet onboard but other methods have been used and are described in the links below.  Having a replacement rudder or emergency steering gear onboard would be worthy of consideration.
The following articles may also be of interest:
 ______________________________________________________________________________________________________________________________________
 Previous news items:
---