News
14 March 2019
Is it charter or private & pleasure?
---
A brief guide to determine whether you are using your boat for charter or private & pleasure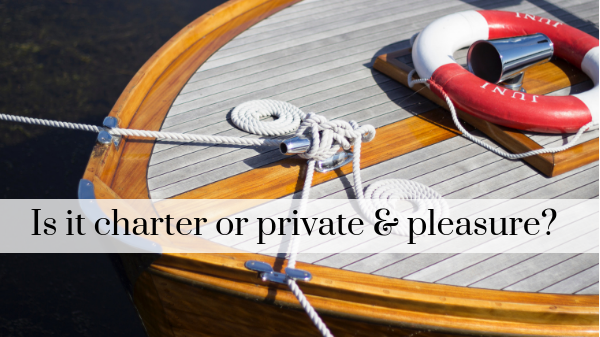 With the inevitable cost of boat ownership thoughts often turn to yacht charter as a means of either contributing to annual running costs or a revenue stream in its own right.  Regardless of how formal or informal the charter arrangements may be, owners should ensure their insurance providers are kept fully informed and insurance policies provide appropriate cover should a claim occur whilst engaging in charter activity of any description.
In broad terms, if persons onboard have paid for the privilege or the vessel is remunerated to participate in a festival, regatta etc., a contract is likely to have been made and the vessel therefore deemed to be operating commercially. Legally, in order to charter, a yacht must comply with any local authority or regulatory operating requirements specific to the nature and area of charter and it is well worth the effort in seeking advice from either the vessel's flag state certifying authority(s) eg. the Maritime & Coastguard Agency (MCA) for British flagged vessels or your yacht insurers.
The nature of the charter activity determines whether a specific coding is required for the vessel in order to undertake such activity.  It may be that no coding is required but it is always recommended to check either at a regulatory or local authority level just to be sure.
 
For vessels sailing in non-flag state territorial waters the likelihood of a thorough inspection of insurance documentation and investigation into the nature of any charter activity is that much greater than sailing in home waters.  The consequences of not having correct documentation onboard can result in arrest of the vessel.  You should ensure you are familiar and comply with any local regulation applying in non-flag state waters.
 
Bear in mind standard yacht policies, whether extended to include commercial activity or not, will generally exclude all liabilities to paid crew or 'any person employed in any capacity…in connection with the vessel'.  There may be instances where the owner has a statutory obligation to ensure these liabilities are insured and it is recommended advice is sought from your insurance provider.
 
Do note that British flagged yachts in excess of 13.7m in length, even when being used privately, may be subject to sections of the Merchant Shipping Act, especially in respect of manning and safety requirements.  The MCA Marine Guidance Note 538(M) provides a thorough overview of the legislation.
 
We will be issuing a further release on coding compliance, in the meantime should you wish to discuss any of the issues raised in this or any of our other releases please do get in contact with us.
---